Advanced Calculus:
A Compilation of Music Recorded Live at
WRCT 88.3 FM Pittsburgh
Over the course of the last year and a half, Pittsburgh's finest independent musicians recorded one-hour sets on Advanced Calculus, a weekly live music show on WRCT Pittsburgh 88.3 FM. From hundreds of hours of tapes, one track was selected from each of the 28 bands that best represent Pittsburgh's diverse, inventive and raw musical underground. Those tracks were then painstakingly mixed and mastered and finally pressed across 2 CDs.
Among the bands on Advanced Calculus are Birdman Records' garage rockers Modey Lemon, Thee Speaking Canaries, underground hip-hop crew Strict Flow, Blunderbuss, horror-synth masters Zombi, and many more.
Click here to see a full track list.
Available now at finer record stores.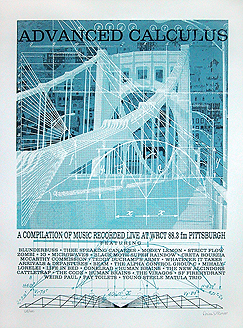 Also available: limited-edition silkscreened Advanced Calculus posters (designed by Andrew Burger, printed by Chicago's Bird Machine). Actual size: 18" x 24".
Press
Splendid Magazine
Pittsburgh Post-Gazette
Pittsburgh Tribune-Review
Pittsburgh City Paper
Pulp
The Tartan
The Pitt News
Babysue